3 Tips for Link Building with Odesk + a Decision Chart for Your Outsourcers
If you have a linkable asset that converts well into links for you - let's say free products for review, articles for guest placement, resources for donation, etc - there's strong value in exploring the automation and outsourcing of your link prospecting, qualification and outreach. When you know what works, the next step is getting to scale, and outsourcing parts of your process can really help! Ben made a video on using Mechanical Turk for link qualification and contact info gathering, which prompted an email from Dave Lorrez (of e-tail.be + author of Kersvers linkbuilding boek verschenen) who kindly outlined his methods for outsouring aspects of link building to the folks at Odesk.
So in our first guest post, here's Dave Lorrez on using Odesk for link building.
I've used Odesk workers in various ways:
I teach them to use certain search queries, for example "keyword(s)" inurl:links/resources/partners/etc, get them to export these results and sort them by relevance and importance and let them send a personal email. Topics can be different, if it's an interesting site, we're asking for an interview, if a content site, we're starting a little conversation about a certain article on their site and later on offer them a guestpost, point them to a follow up/other interesting/infographic on our site, etc... if too hard to get a touching point, I let them look for dead links to report them just to break the ice :)


Another little one is let them look up topic related articles posted on sites like ezine articles, get them to copy paste those texts into copyscape and look which (non spammy) sites published those articles. Next step is to contact them and offer them more free and 100% unique content :)


Same for wikipedia articles, get them through copyscape or check backlinks to topic related wiki articles and start whith what i've described in #1 :)
For $4-5/hour you can find skilled people there who can handle these kind of easy jobs and keep track of all the things they're doing ...at least I can :)
Dave Lorrez's Decision Chart for Odesk Link Builders
As if his 3 tips weren't awesome enough, Dave translated his decision chart from Dutch. Dave is incredibly awesome, and this chart is great for helping outsourced link builders make decisions about link prospects.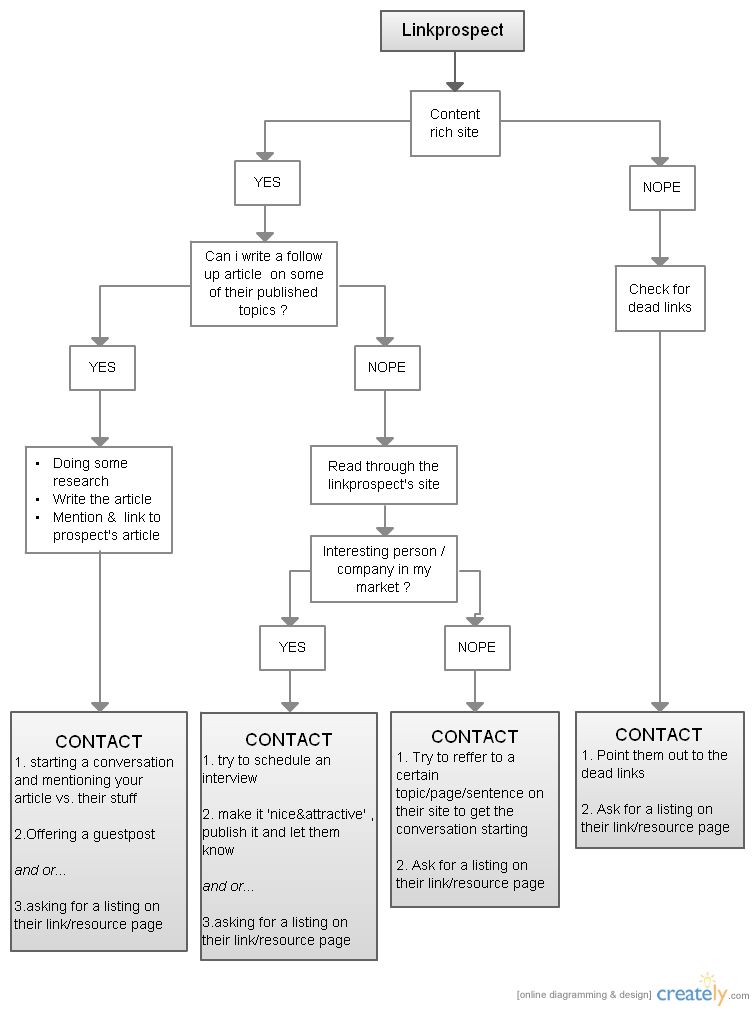 More Resources on Outsouring Your Link Building Processes