New Ontolo Toolset Demos for SEO and Social Media Bloggers
SEOs and Social Media marketers know that content and content promotion can drive links, leads and brand. In short, they know that content - and in particular LINKS to that content - builds business. In our two new demos, we make it easier for SEO and Social Media bloggers, publishers and agencies to quickly discover link prospects for content, guest post opportunities, multiple-citation opportunities and even new ideas for highly linkable content.
We're launching our V2 Link Building Toolset on Tuesday of next week - sign up for our announcement list to get a launch day email!
Here's how SEO and Social Media Bloggers can get started!
Register for a free Ontolo account
Go to our Link Building Tools page
Select one of our 26 searchable reports (learn more)
Select your data set (choose between Outdoor Sports, SEO and Social Media)
Begin querying the data set for prospects
Check out the Ontolo Link Building Toolset User Guide for advanced tips and a detailed walkthrough!
Note: We highly recommend checking out our demo vids before getting started. You will have a learning curve because we're VERY different from other link prospecting tools on the market!
A Quick Guided Walkthrough for Prospect Discovery
Since I will be needing to promote this blog post once it's written, I'd like to find bloggers and sites that have published information about link building tools. AND, since I'll be using twitter for outreach, I'll need their Twitter accounts. Here's how I use the demo to find this information.
1) Select the "Blogs" Searchable Report
The Blogs report is in the left nav under Social Media Research.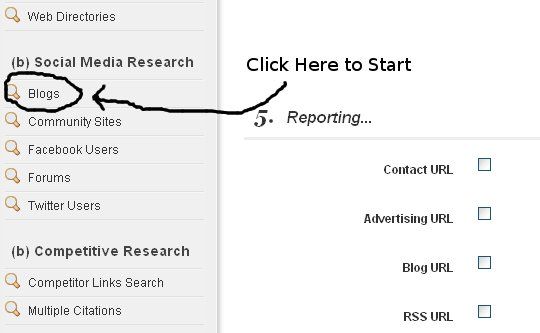 2) Select the SEO Data Set Radial Button
Since the demo currently defaults to our Outdoor Sports data set, it's VERY IMPORTANT to click this radial otherwise you will not find useful results!
3) Query the SEO Link Prospect Dataset
I used a Title Tag query, which is going to search all the blog-identified prospects within the SEO publisher dataset. The query I used is [link build* tool] (try it without brackets) which is going to bring back all the link prospect results relating to link building tools.
FURTHER, since I want to find the twitter handles and contact pages for the bloggers and publishers writing about link building tools, I clicked the "Contact URL" and "Twitters" boxes in the Reporting section.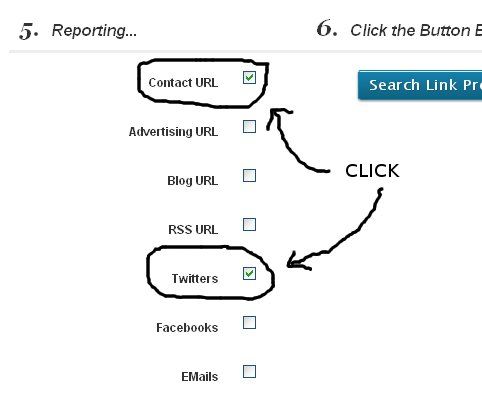 4) Click "Search Link Prospects" ...and WIN
Lastly I click the beautiful blue button that reads "Search Link Prospects..." and get 1000 results. There's so many data points for each prospect that I have to scroll right across the screen to find ALL the information. And if I scroll right and then sort by Twitter accounts, I can see ALL the prospects that have published on Link Building Tools AND that have Twitter accounts :) WOOHOOTY! Dang, now I wish I hadn't found so many prospects I've really got my work cut out for me ;)
5) Now It's Your Turn
Now it's your turn - think of a linkable asset or piece of content you've already created and try to find some prospects who might be interested in sharing it with their audiences. If you're an SEO/Social Media blogger and you'd like help using the demo sets for promoting content please email Garrett.French at Ontolo.com!
Ontolo for Linkable Content Research
If you're an SEO or Social Media blogger then you know how tough it can be to come up with content ideas or plan out a linkable content calendar. One reason I love our toolset is the content research functionality... and it largely automates the Ultimate Guide writing process I describe here and here.
If this interests you, check out this video Ben did (though remember he's searching the Outdoor Sports database! Make sure you click the SEO or Social Media radial button)...
Try this for yourself:
Find the Content Research section of the left nav, then click on "Search by Content Topics."
Click the Social Media radial.
Type [engage*] without brackets into the title tag query box.
Click the "How Tos" radial from content types.
Search the link prospects
...BAM. There's 205 resources on engagement in Social Media, and you can sort by PageRank of URL or PageRank of domain to find the more established pieces of content.
Remember to click the radial button of the data set you'd like to search! You have to select this each time you go to a new searchable report!
Advanced Use: Digging Deeper Into the Data
So far I've walked you through how I looked for promotion prospects for this specific blog post, as well as touched on content research within the Social Media market. There are 26 different searchable reports though, and over 200 data points by which you can sort the results. Further, you can search WITHIN your result sets using the search box underneath the data export tabs.
The examples I gave above BARELY SCRATCH THE SURFACE. If you're an advanced user, certainly spend some time poking and playing, but please check out our 12 demo videos - they're going to give you a stronger sense of what the Ontolo Link Building Toolset unleashes :)
If you're curious about refining your results, check out this video.
Lastly, an offer. If you're an SEO or Social Media blogger and you write a review of our demo datasets I will give you a free copy of our link building ebook. And if you have any questions, please feel free to email me: Garrett.French at Ontolo.com!
We look forward to working with you beginning on October 12th. To make sure that you get notified of the ability to sign up as soon as possible, quickly enter your email for the announcements list!