Phone Number Co-Citation Analysis for Local Link Builders
In testing and researching an upcoming piece on local link opportunity analysis (which follows of course from Content-Based Link Opportunity Analysis) I was struck by a wild and sudden bolt of epiphery... If you can identify a unique footprint for local competitors, then search for this footprint, each URL that the search engine discovers is a "citation." In this simple exercise below, we'll treat the company's phone number as that "unique footprint" and see what happens :)
Update: Congratulations local link builders! Darren Shaw and Ontolo collaborated on a tool that automates the process outlined below. You can sign up to use the free Local Citation Finder >>
Because of a recent good experience with a local roofing company (I'm in Raleigh, NC) I decided to check out that market to see what's shaking in the local SERPs. I used the phrase [Raleigh Roofers]: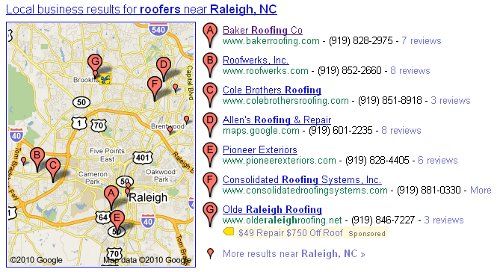 Mmmm... look at those ripe, juicy phone numbers just dangling there in the breeze. Let's get crackin'...
1) Gather phone numbers from your top-listed competitors
First off, copy and paste each full phone number (I think addresses could work too - it would be interesting to compare results of phone vs. address...) into a text doc or your favorite spreadsheet program. These numbers are the starting point for all of your link/citation prospecting. Here are the ones I used, in the order in which they appeared on Google, in case you want to follow along from home...
"(919) 828-2975" 93 results
"(919) 852-2660" 34 results
"(919) 851-8918" 66 results
"(919) 601-2235" 48 results
"(919) 828-4405" 68 results
"(919) 881-0330" 61 results
"(919) 846-7227" 45 results
When I searched for each of them, I put quotes around them. Also note that in the above list I also included the number of results that each search for each phone number has. This was for personal interest mostly, as I was curious if there was any correlation between citation numbers and ranking. I'll let you draw your own conclusions on that... For now, move on to step 2.
2) Make new desktop folder, Search each number, pull top 100 results as CSV, save in folder
With SEO for Firefox enabled, search for each phone number with your results set to 100. Then export the top 100 results as a CSV and save in that new folder you made on your desktop (I call mine "dump"). At the end of this step you should have the same number of CSV files in your new folder as you have phone numbers of competitors.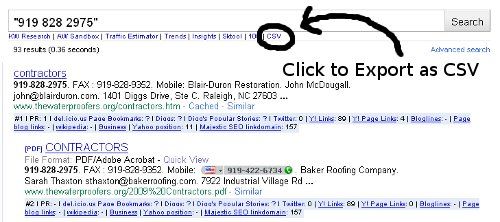 3) Open each CSV with spreadsheet program, copy urls into our tool, then paste results into your main spreadsheet
Now it's time to scrub the data so that we can get reliable co-citation numbers. To do so, open your first CSV and copy and paste the URLs into our Unique Hostname Sorting Tool. Then copy and paste the scrubbed URLs onto a new sheet in your main spreadsheet. Then open up the next CSV and repeat the process.
The Unique Hostname Sorting tool boils your list of URLs down to just the unique hostnames. That is, if there was hostname.com/thispage and hostname.com/anotherpage you'd only see hostname.com in this tool's final results. Every citing URL is useful, and you should hang on to them, but to do co-citation analysis you need a list of unique sites that cite the phone number.
At the end of step 3 you should have a sheet in your spreadsheet with ALL the citing hostnames from ALL of your phonenumbers that you searched.
4) Count Hostname Co-Citations
Now you can paste ALL of the hostnames you found citing ALL of your competitors into our hostname counting tool. This is always my favorite part since it's when all the data gathering finally delivers the results. After you've hit Submit on our tool, you can export the results or just copy and paste them out into your spreadsheet. You now know which sites most-frequently cite your competitors' phone numbers. You can now begin qualifying the sites and otherwise analyzing your results.

5) Analyzing and Qualifying Your New Citation Opportunities
Here is an sampling of the results I found along with my thoughts on approaching them for local citation builders.
There were 3 sites that cited all 7 phone numbers:
mrnumber.com
phonenumber007.com
realpageslive.com
My assumption here of course is that they scraped phone number information, and may not indicate great avenues for discovering prospects. However, if your phone number is NOT in the most frequently-citing sites you should figure out why.
There were 7 sites that cited 6 of the 7 phone numbers:
blogthishere.com
local.triangle411.com
merchantcircle.com
mojopages.com
raleigh.fox50.com
superpages.com
yellowbot.com
And here we start to get into a bit more Raleigh-centric sites, such as local.triangle411.com and raleigh.fox50.com. Probably these are for-pay listing sites, but they should definitely be investigated.
What I found interesting was the number of quality sites that only cited ONE of the phone numbers... They often seemed to be more of the home-grown sites such as blogs, neighborhood sites, chambers of commerce and what look like citation-trades. Further, some of them indicated BUSINESS relationships, such as the citation from facilities.uncc.edu.
Here are a few hand-picked examples from the sites that only cited one phone number:
boylanheights.org
smithrealestate.net
shoplocalraleigh.org
sanfordnc.net
facilities.uncc.edu
durham.northcarolina.com
6) Citation Acquisition and Other Next Steps
Being new to local citation building, I can't offer many recommendations regarding acquisition beyond looking for submit buttons and contact information pages on each site. One approach I'd take though, that would both aid acquisition as well as future opportunity discovery is to look for patterns in the types of opportunities that appear.
For example, there are clearly many sites that are probably powered by one of the centralized business data repositories. You should definitely set these sites aside so that you don't spend your time barking up the wrong tree for several listings you could get easily in one fell submission swoop.
There's also a few home-grown local listing and info sites that are VERY interesting, such as shoplocalraleigh.org and boylanheights.org (a Raleigh neighborhood). I think these should have their own category in your analysis as they are marginally tougher to get into (in that they take a bit of legwork to find).
I'd also sort prospects based on the probability that there's a business relationship involved. For example the citation at facilities.uncc.edu (which is for UNCC facility managers) probably is in the context of the roofing contractor of choice. Yowza - now that could be a good gig...
Once you've determined some of the more common types of opportunities you can return to your search engine of choice and hunt for more of them based on any kind of footprint you can discover.
7) What This Method Does Not Do
As awesome as this method is, there's quite a bit it leaves out when it comes to discovering new opportunities for getting your local business listed on local websites. Here's what this method does not do:
show you which citations you already have
measure the quality of the citing hostnames
enable you to discover more, similar citation opportunities beyond the existing citation graph
in any way deal with LINKS...
I am unaware if this method has been discussed in the past
Caveat update: I asked Matt McGee of SmallBusinessSEM.com for feedback on this method and he noted: "what Google shows as citations on a Place Page is dramatically different than what will show on a Google.com search for the phone number. If I'm mining a competitor's citations, I'd use what's showing on their place page -- not what I see on Google.com in the 7-pack and the regular SERPs." My interpretation is that what's showing on the place page is a stronger indicator of what Google's actually looking at. Intrepid local citation builders could distill those place page urls and conduct co-citation analysis using the process and tools above.
8) Recommended Local Link Building Resources
I am new to local link/citation building beyond my research, testing, wild speculations plus a handful of great discussions with a link building book buyer plus a local lawfirm ninja SEO buddy. I could not have even begun to speculate on writing this article without the following brilliant resources:
If you know of other similar resources, or know of other citation prospecting ideas I'd love to hear from you: Garrett.French@Ontolo.etc...
The Sales Pitch
If you'd like a large, searchable database of co-citing sites in your market please drop us a line or read more about getting started with our Link Building Toolset >> Also, our Link Building Book is really good.