The number one challenge when solving an old problem in a new and better way, like ontolo does, is that there's a slight learning curve. This makes sense because it functions like no other tool does, in order to get the results that no other tool is capable of providing. I'll have some new demos showing this throughout the week, but ontolo is the fastest, deepest, and most targeted prospecting tool on the market. ontolo helps you find many more prospects in far less time, discovering specific prospect types like guest posts, social media accounts, niche experts, communities, etc, along with tons of contact information to greatly speed up your outreach. All you have to do is tell ontolo what you're looking for, ontolo finds it, then you reach out to folks.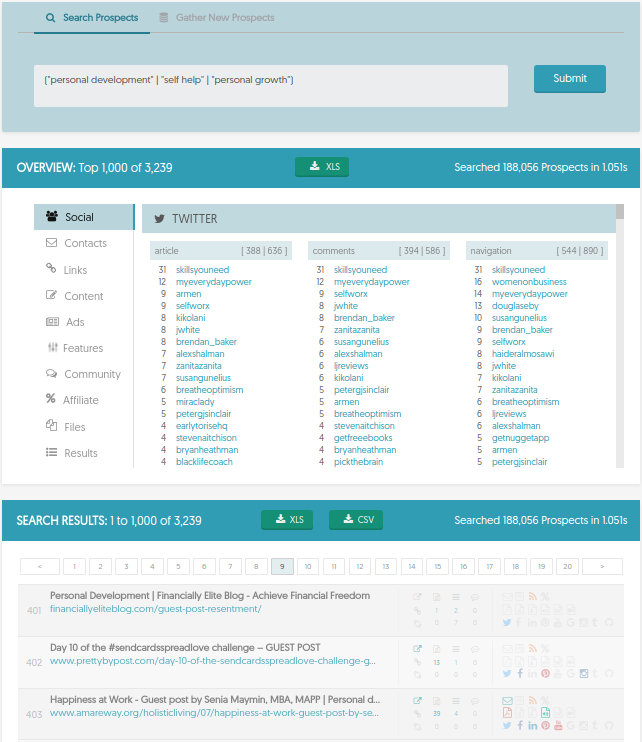 Every time I've walked through it with someone, within a minute or two, everything clicks; they get excited about the time they'll save, they get excited about more complex marketing opportunities that suddenly became easier, and they get excited about researching to create better content even faster. There's just that inital hump… So… The next new feature coming out in February is a Campaign Manager, which I discussed in the vlog. (see the P.S. below for info on that) I'm designing this in a way that makes it far more intuitive how to get started and get the most out of ontolo. It's also letting me add a new feature that I've been wanting to implement for a very, very, very long time. I won't say exactly what it is, but I can say that it will let you find prospects each and every day, while you're soundly asleep. You'll have to set it up only once, and each day…new, targeted prospects in your inbox and ontolo index, contact info and all… As you probably know, I offer a short, few-day sale on ontolo randomly and only once a year. With new features coming soon, and some big features coming later in the year, I'd love to get your feedback on how I can tweak some things to help you save even more time on your prospecting; link building, content marketing, and outreach campaigns. (along with lots of other areas ontolo helps) Because your feedback is so important, when you sign up this week, and for this week only, not only am I offering a discount, but if you sign up for the Agency plan, or prepay yearly for any of the plans, I will also set up a call with you so I can walk you through exactly how to use it for your campaigns. I've never offered that before. This is how important this kind of feedback is for me. And when you and 100 other folks sign up this week…it's going to be a pretty long couple of weeks. 😉 Here are the discounts being offered for
this week only
:
Discount
Price
Term
Plan
Max Prospects
Max Prospects/Day
Sign Up
50% Off

$3564

$1782
Yearly
Agency
5,000,000 URLs
1,000,000 URLs
Sign Up
33% Off

$1164

$775
Yearly
Pro
1,000,000 URLs
200,000 URLs
Sign Up
25% Off

$297

$225
Monthly
Agency
5,000,000 URLs
1,000,000 URLs
Sign Up
10% Off

$97

$87
Monthly
Pro
1,000,000 URLs
200,000 URLs
As always, there's a 30-day money back guarantee. Those are larger discounts than I've offered before, and I may never offer them that steeply again. So make sure you sign up ASAP so we can set up a call to get you started with ontolo. I look forward to walking you through ontolo this week. Sincerely,
Ben
---
p.s. I mentioned the vlog above. I started it a couple months ago and update it about 2-3 times a week. I've been experimenting with what I talk about, how I put things together, etc. After almost 30 episodes of experimenting with different formats, I've decided on a direction to take it: from here on out, it's about product development, product design, and marketing. I believe that those three parts – development, design, and marketing – when they're all working together, whatever you're creating will be the best version possible. But if one of those is out of the loop, things begin falling apart. So I'm taking you behind the scenes of ontolo. You'll see how I make decision on backend stuff (including as I build the Campaign Manager), how I choose and make frontend design decisions, and how I choose to market ontolo…including this week's sale and emails, coming in the next vlog. It's all a very candid, no bullshit look at what it takes to build and promote a product online. It's a ton of work, but if it helps even just a few people understand the process just a bit better, I'd love that. And so far, it has. Subscribe to the vlog, here on YouTube:
https://www.youtube.com/c/BenWills15
p.p.s. I also believe that video will break out into the marketing space in 2017.
Dan Shure
of
Evolving SEO
had me on his
marketing podcast
where
I talked about my process with vlogging
, why I'm doing it, and how it's not really an investment as much as a risk…and why I'm still doing it.