Spend Less Time
Get More Prospects
Detailed research for time-crunched marketers.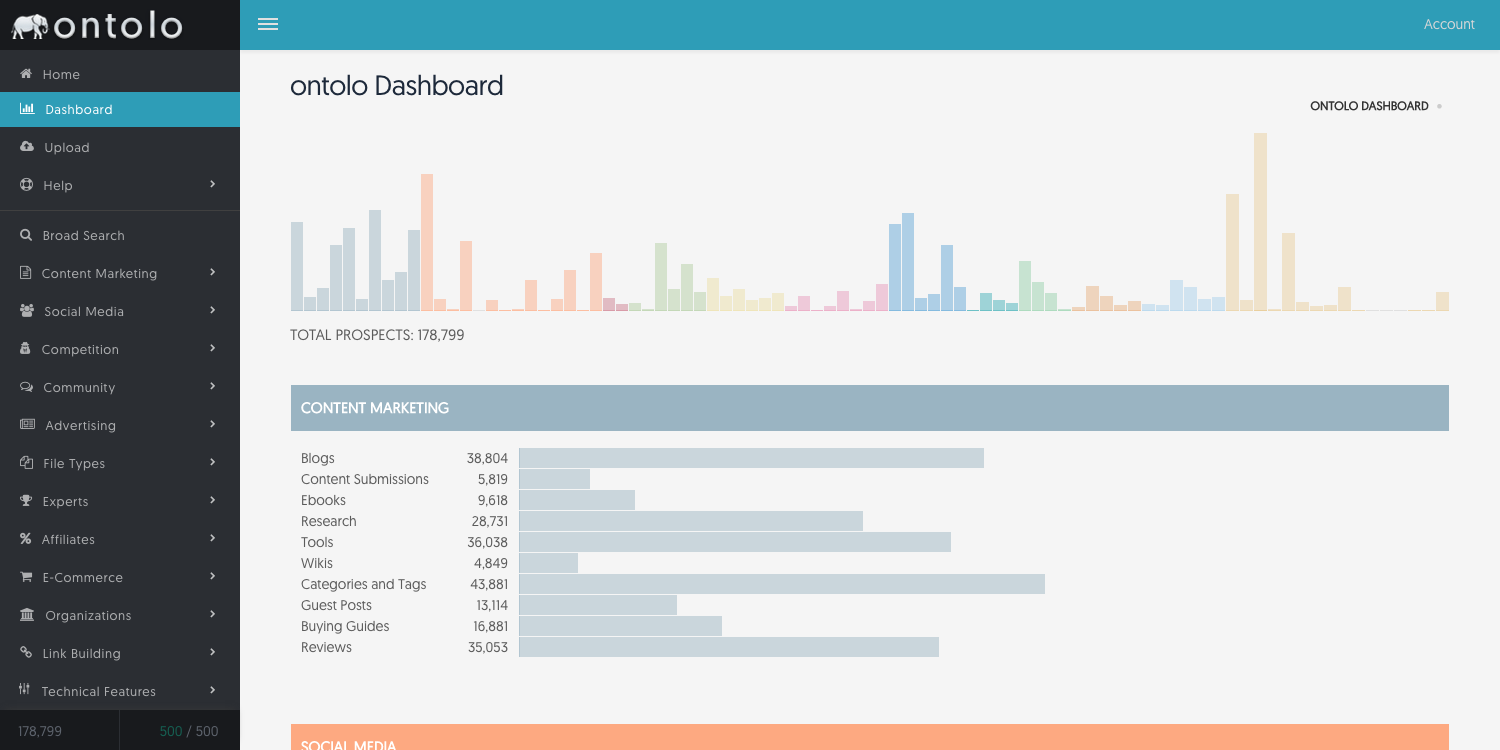 ontolo Discovers Prospects for: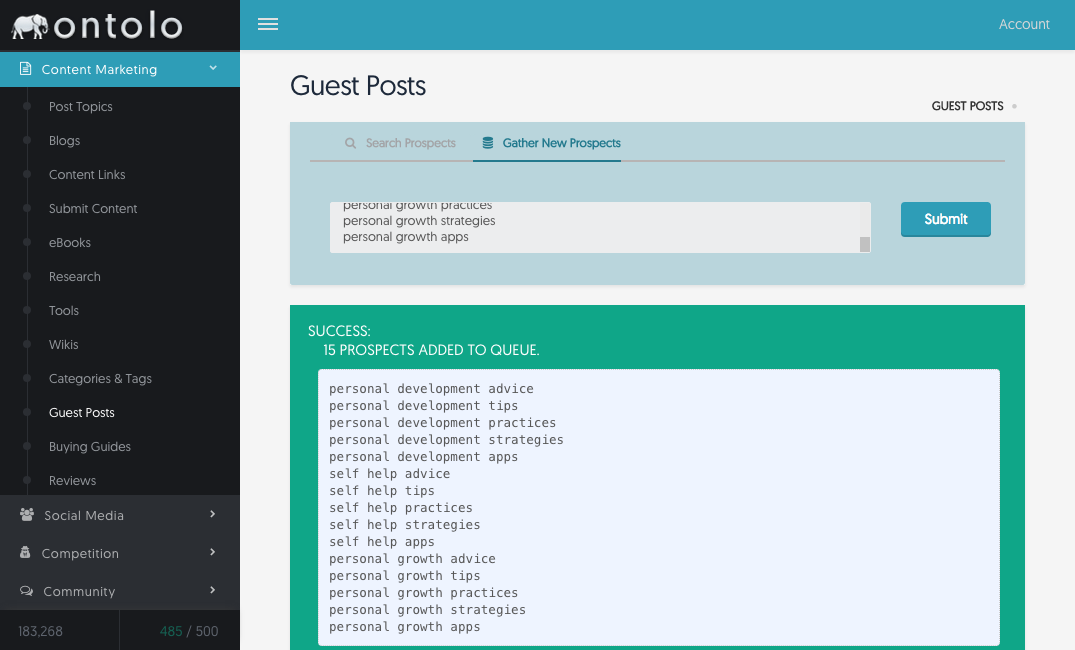 Simultaneously prospect from more than 80 sources.
And Even More Prospect Queries
ontolo also takes care of expanding your prospecting queries. So if you're looking for guest posts, there's no need to try and think of all the ways you might say "guest post" or "guest author" or "guest writer".
Expand some prospect types into more than 20 different queries, behind the scenes.
---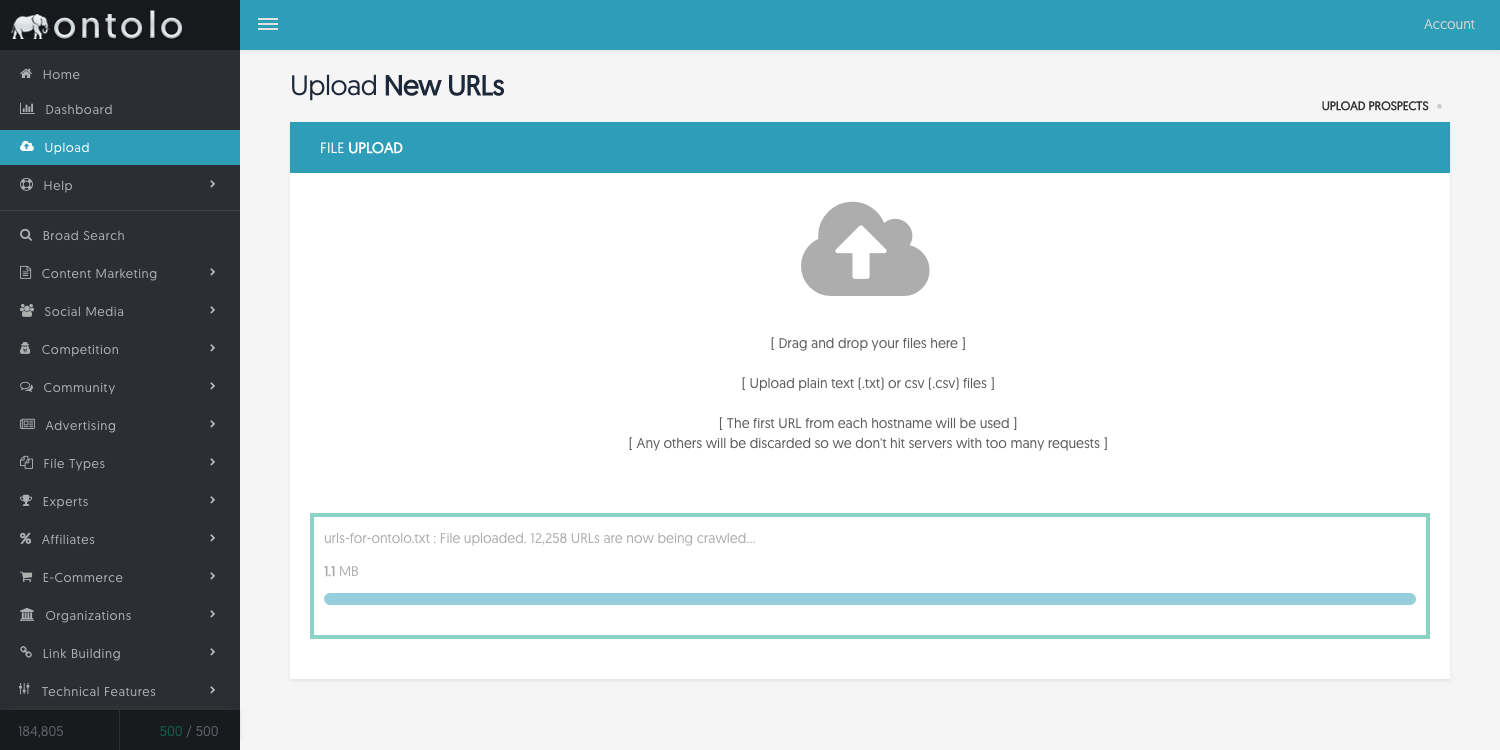 Upload prospect lists from other prospecting sources.
From Any Source Available
The fastest way to crawl prospects, you can upload lists from any source, including Moz, Ahrefs, Majestic, or even your own custom list.
Upload any CSV or plain text file.
---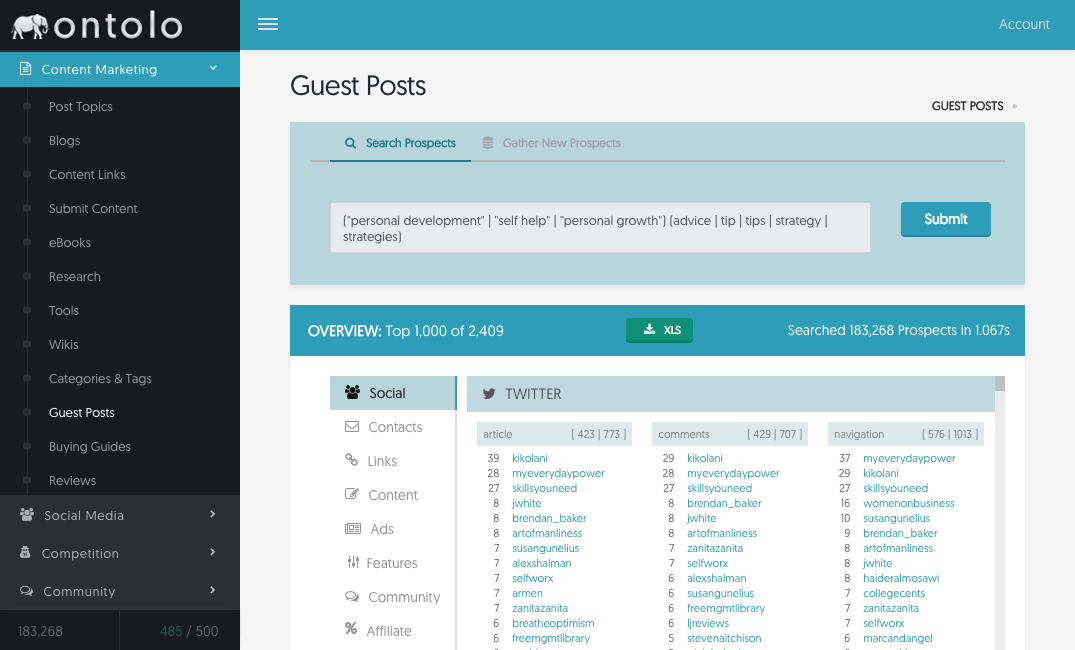 Instantly search your prospects using advanced queries.
Thousands of Tuned Searches
When searching your prospects with ontolo, highly-detailed, refined queries are created behind the scenes. This allows you to find exactly the prospects you're looking for, and only the best in your database.
It gets crazy back there, but ontolo takes care of it for you.
---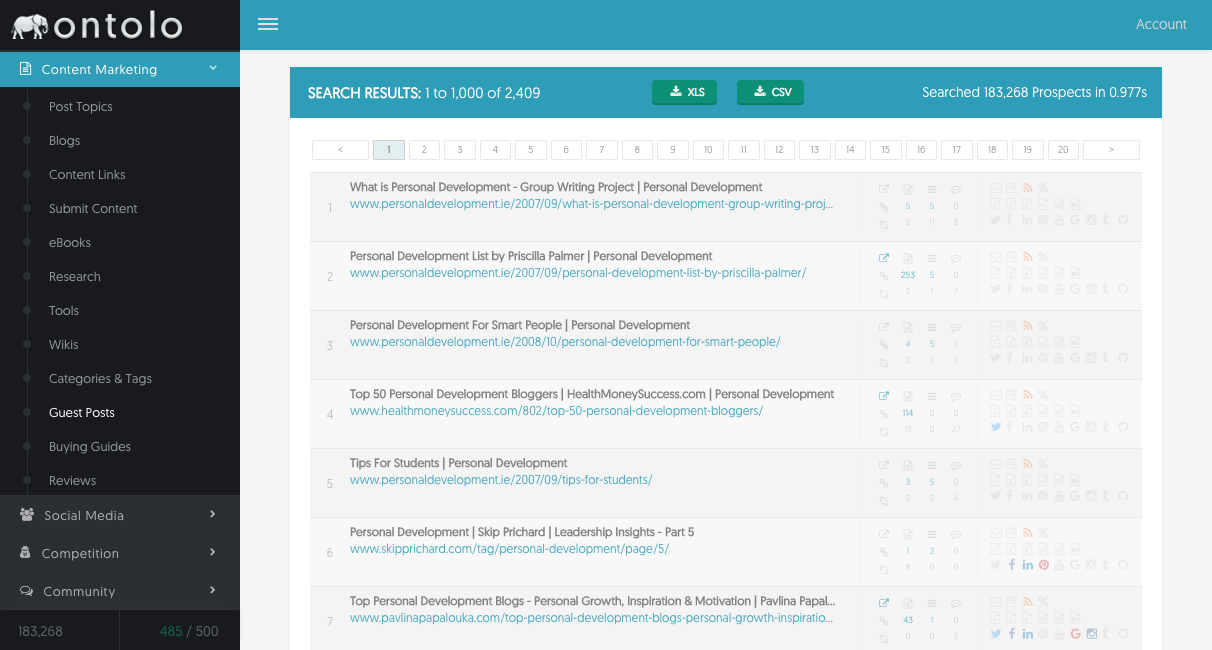 Get prospect insights and data offered nowhere else.
Categorization, Contacts, & More
No other prospecting tool on the market is able to classify, categorize, and prioritize your prospects like ontolo does.
Quickly find exactly the kinds of prospects that will most benefit your campaign.
---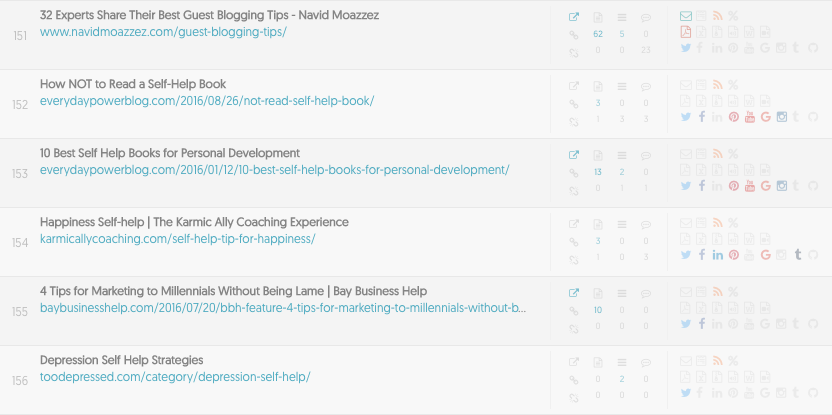 Per-prospect details for faster prospect value assessments.
Contacts, Social, Links, & More
From contact information (email addresses, contact form URLs, etc), to social media accounts and pages, to followed/nofollowed outbound links.
ontolo's custom-built parser gets you more information about each prospect than any other tool on the market.
---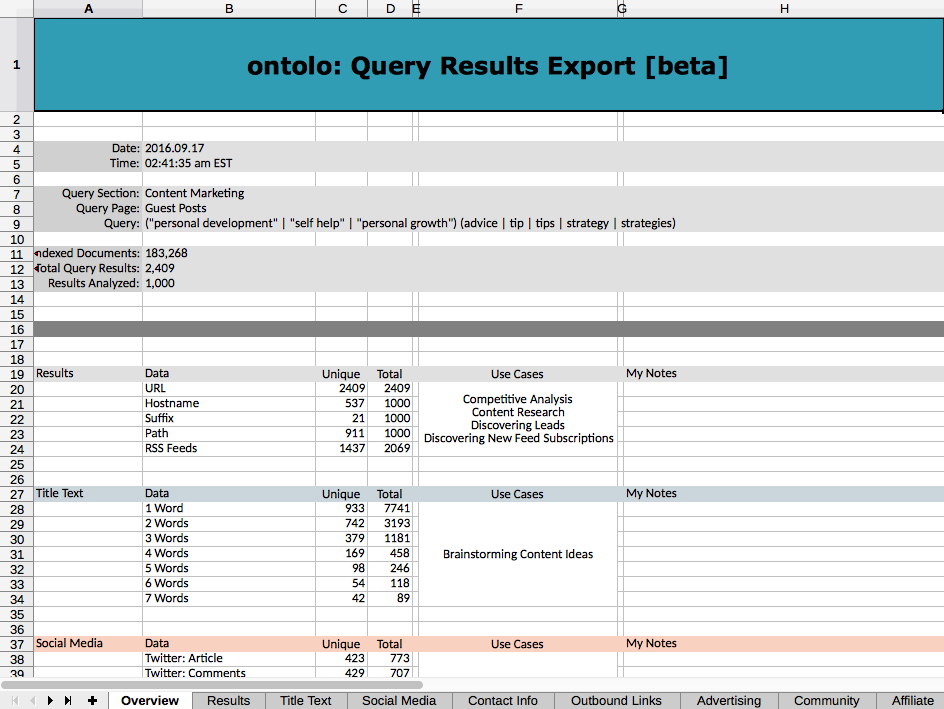 Quickly export mounds of data and contact information.
Detailed, Refined Excel Exports
We got tired of stale CSV exports, so you get multi-tabbed, well-organized, color-coded excel exports for all of the searches on your prospect database.
Of course, if you also want a CSV, you can export that as well.
What Makes ontolo Special
and unlike any other prospecting tool
Fast, Detailed, Versatile Prospecting
250k
Prospects per Minute
Unparalleled Parsing Detail
No other prospecting company parses out things like navigation, comments, article content, etc, in order to get you very refined prospects.
This helps you avoid having prospects show up in your lists where your keywords appear in the footer, for example, but not the actual article content.
Likewise, you can segment things like social media accounts that appear in the navigation as an indicator of the site's social media accounts, rather than one linked to from an article.
Prospecting Scale
Never again worry about "link building queries" or "prospecting queries."
ontolo not only takes care of expanding your prospecting topics and types into all of the relevant permutations (e.g. "guest post", "guest author", etc), but it also handles it in your queries.
Finally, ontolo also prospects from more than 80 different sources, so you never have to stay on top of new sources again.
Sub-Second Query Speed
ontolo's technology behind the scenes ensures that you're able to search and filter your propsects as quickly as they're added to your database.
ontolo's unique and custom-built codebase, from the ground up, allows for unparalleled speed when searching your data for your most valuable prospects.
Tons of Contact Data
Not only does ontolo find and export any email addresses for you, but it also exports any contact URLs that are linked to from each prospect.
Additionally, any social accounts are also collected and organized by where they appear on the page.
Keep reading to see how all of this works, and all of the data you get with ontolo.
Detailed Prospect Analyses
every time you search your prospects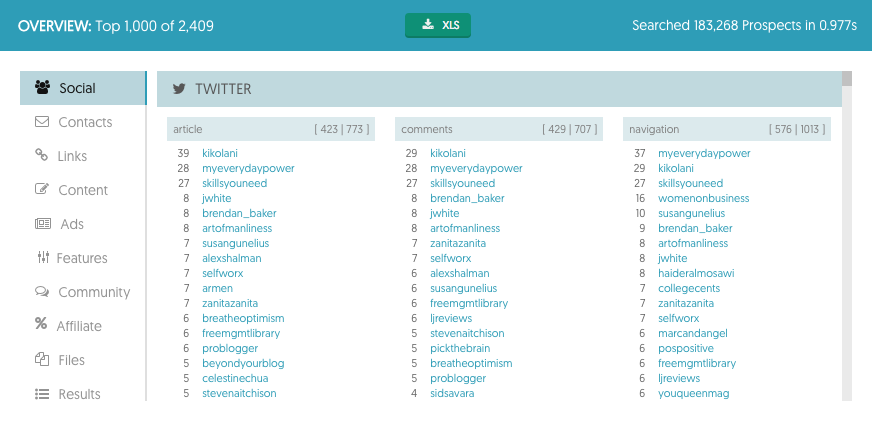 Social Media
Contact Information
---
For each section: Article, Comments, and Navigation:
Facebook
GitHub
Google Plus
Instagram
LinkedIn
Pinterest
Tumblr
Twitter
YouTube
---
Contact Emails &
Contact URLs
---
Contact Emails
Contact URLs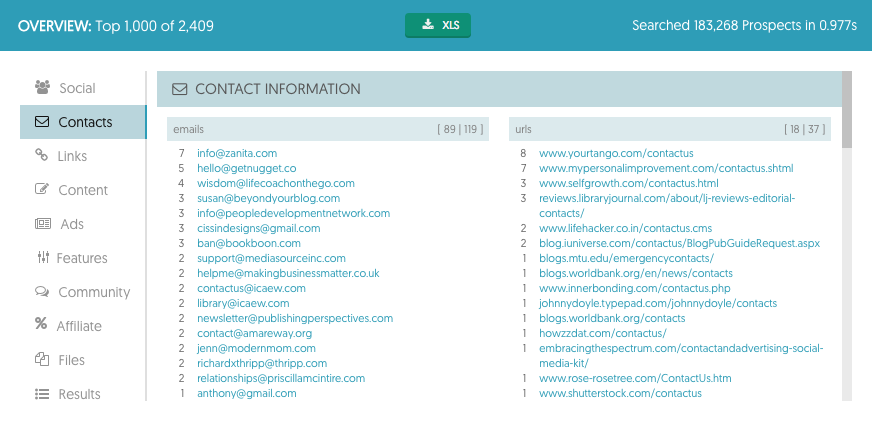 ---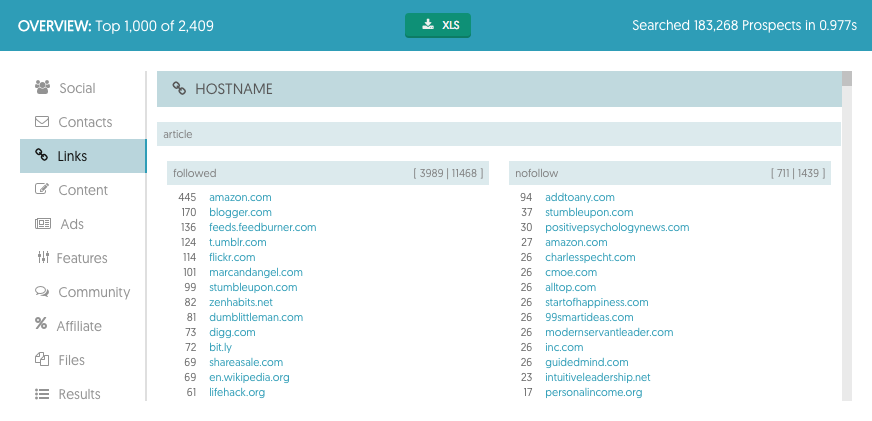 Outbound Link
Statistics
---
For each section: Article, Comments, and Navigation:
Followed: Hostname:
Followed: URL
Followed: TLD/Suffix
NoFollowed: Hostname:
NoFollowed: URL
NoFollowed: TLD/Suffix
---
Content
Language Patterns
---
1 Word
2 Words
3 Words
4 Words
5 Words
6 Words
7 Words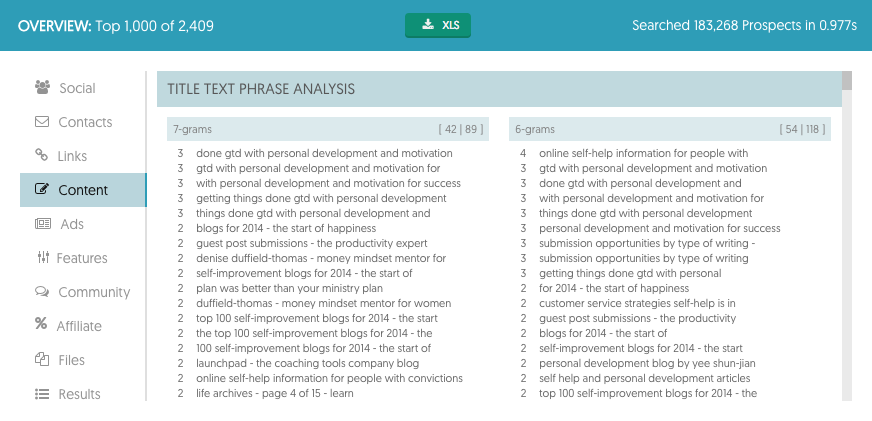 ---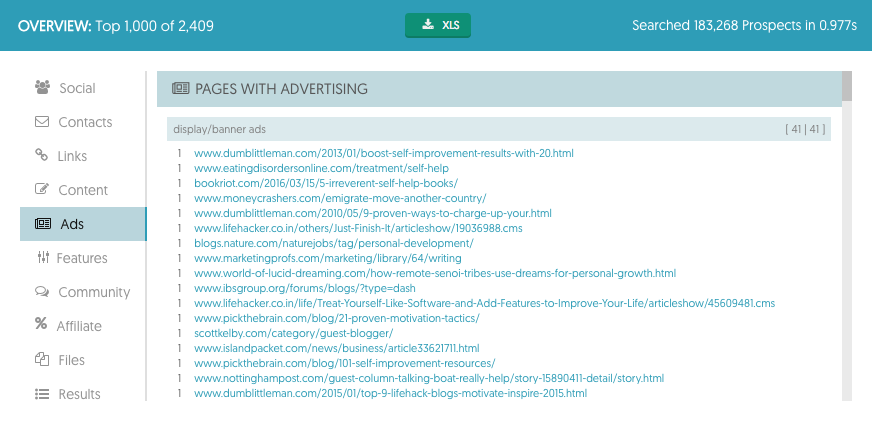 Advertising
Opportunities
---
Display/Banner Ads
AdSense
Paid Content Ads
Advertising
Donations
Sponsorships
---
Technical
Features
---
Geo-IP Tracking
Language Translation
Live Chat
Search Form
User Login
User Registration
Video Analytics
Web Analytics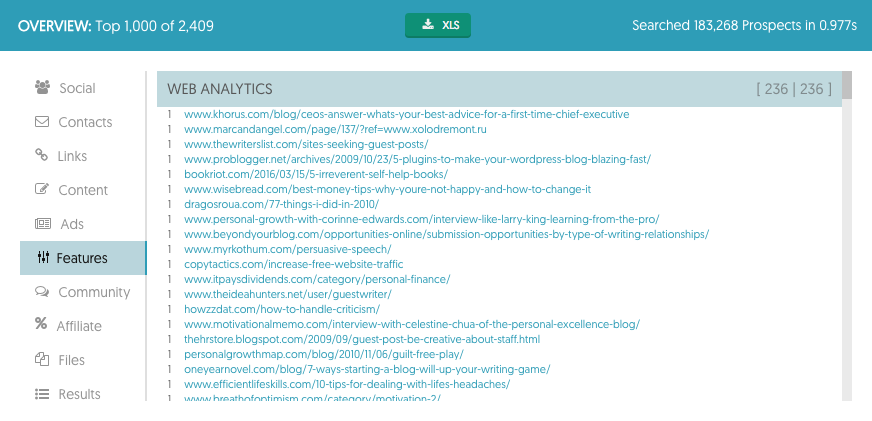 ---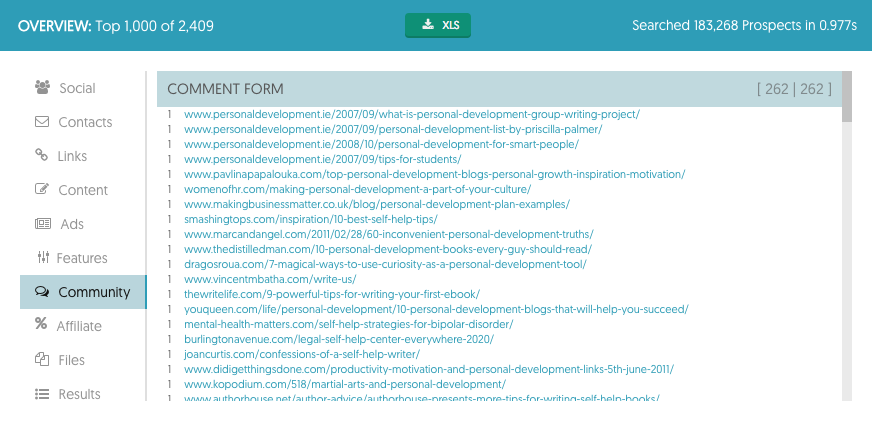 Community
Engagement
---
Embedded Comment Forms
3rd-Party Comment Form
Polls & Surveys
Messageboards & Forums
---
Affiliate
Programs & Publishers
---
Pages with Affiliate Links
On-Site Affiliate Content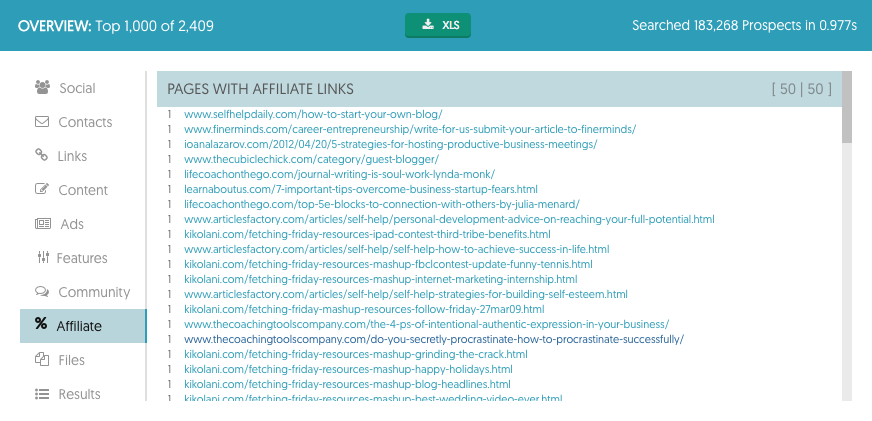 ---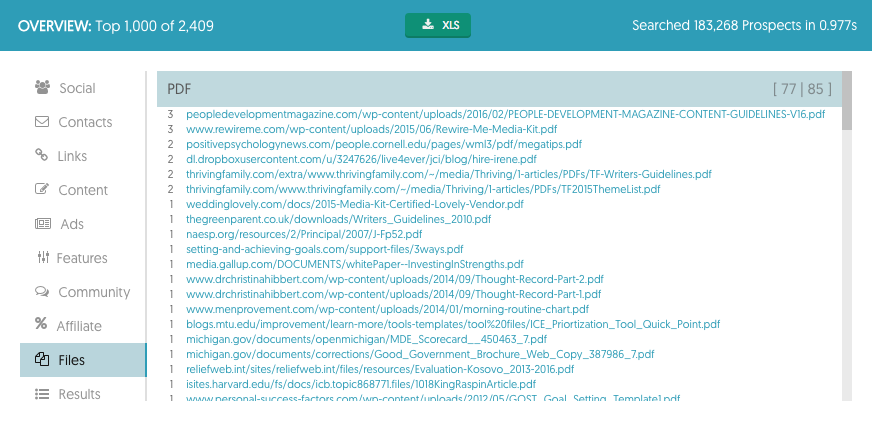 Multimedia
Documents
---
Archive (zip, gz, etc)
Audio
PDF
Spreadsheet
Video
Word Doc
---
Find Tons of Prospect Types
for almost any marketing need
ontolo Tools, Complete List:
With ontolo, You Can :
Save More Time
Finding more precise, more valuable, prospects even faster.
Find More Contacts
From email addresses to contact URLs to social media accounts.
Become More Creative
Spending less time on research means more time on creative strategy and content creation.
Research More Thoroughly
ontolo's research tools go both wide and deep.
---
Begin Right Now,
Finding More Prospects in Less Time
In Less than 60 Seconds, Start Now
Pro
1,000,000 URLs


in Your Index

200,000 URLs


per Day
---
$97 / mo
Sign Up Now
* 30 Day, Money-Back Guarantee.
Agency
5,000,000 URLs


in Your Index

1,000,000 URLs


per Day
---
$297 / mo
Sign Up Now
* 30 Day, Money-Back Guarantee.
Custom
Custom Code


Custom Data

Custom Problems


Custom Solutions
---
$ Custom
Contact Us